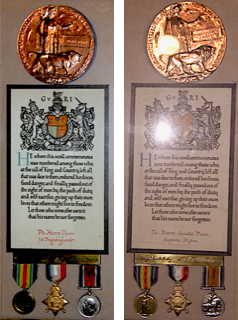 The Invergordon Archive
Henry Dunn And Robert Christie Dunn
I mentioned earlier that Henry and Anne Dunn lost two of their sons in World War One. They were Henry and Robert Christie Dunn, their names are on the Invergordon war monument.
Henry was killed in action on Monday December 21 1914 in Flanders. He was a member of The Household Cavalry, Cavalry of the line including Yoemanry and The Imperial Camel Corp. and the 7th Dragoon Guards.
Robert Christie Dunn was killed in action on Saturday April 21 1917 in The Persian Gulf theatre of war. He was a Seaforth Highlander. Sadly there is not a photograph of either of those young men but surely they deserve mention here.
These are their commemorative plaques. Unfortunately we cannot make them any clearer...they read as follows:
He whom this scroll commemorates was numbered among those who,
At the call of King and country, left all that was dear to them,
Endured hardness, faced danger, and finally passed out of the sight of men by the path of duty and self sacrifice,
Giving up their own lives that others might live in freedom,
Let those who came after see to it that his name be not forgotten.
Picture added on 15 January 2019 at 12:30
Comments: