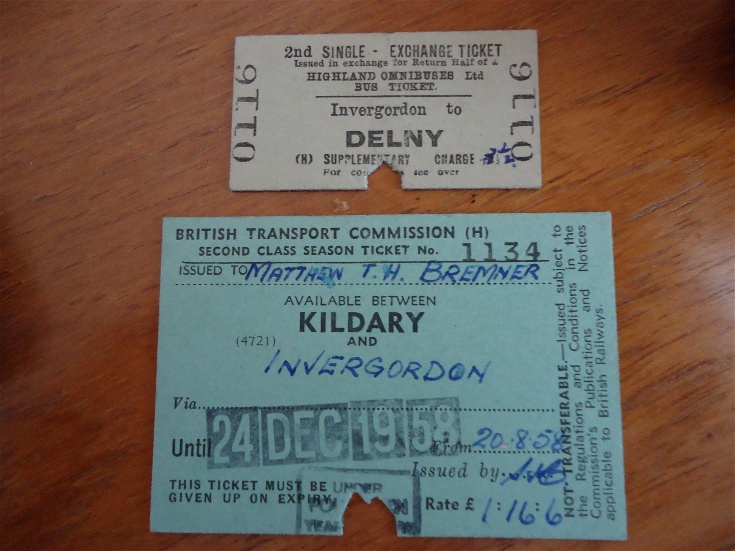 The Invergordon Archive
Old Railway Tickets
I thought that these tickets may be of interest.
The top ticket is an example of an Interavailability Ticket which was valid for travel on both a bus and a train between Invergordon and Delny. The outward journey could be made by bus but the return portion of that bus ticket could be exchanged, with perhaps a couple of pennies supplement, for a railway ticket to get you home again. Many of these Interavailability Agreements came about in the 1930s when the railway companies of the time purchased financial holdings in bus companies which became known as their "associate bus companies". Such an agreement was reached in the Highlands between the LMSR (London Midland & Scottish Railway) and the Highland
Transport Company Limited. In 1952, following nationalization of the bus industry, the Highland Transport Company Ltd became Highland Omnibuses Limited, a name familiar to many.
The lower photograph is an example of a Ross & Cromarty Education Dept. funded scholars' railway season ticket for pupils attending Invergordon Academy. This one was issued at Kildary Railway Station and was valid for return railway travel between Kildary and Invergordon from the start of the new term on 20 August 1958 (usually just before the Invergordon Games) and the Christmas holidays on 24 December 1958. It looks as if the initials of the issuing railwayman at Kildary could be "H.C."? The cancellation snip has partially removed an ink stamp which looks as if the pupil was "under fourteen years of age" at the time.
Picture added on 20 February 2015 at 10:11
Comments: