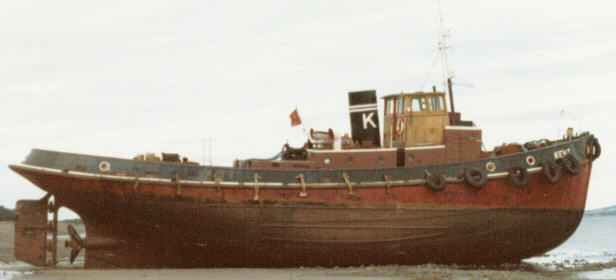 The Invergordon Archive
The tug MT Kent
MT Kent, the first of many Knight tugs to work in the Cromarty Firth, arrived at Invergordon in 1969 to support Mears Bros. Dredging (MBD) operations during construction of the smelter pier.
She was built in 1948 by Richards Ironworks Ltd of Lowestoft for J P Knight of Rochester, to become the first diesel tug on the Medway. Length 27M, Beam 6.7 M Draught 2.8M . British Polar 5 cylinder diesel, 850bhp
On completion of the smelter pier, Kent stayed on at Invergordon, and J P Knight formed the Caledonian Towage Co. to manage their affairs in Scotland. Many "Knight" tugs have been in service at Invergordon since 1969, all with the familiar black funnels with two white bands over the white K. By 1988 the Kent had returned south and was laid up at Chatham before being taken over by S.E.T.S., The South Eastern Tug Society in 1995. They maintain her in running order and make occasional trips up the Thames and over to mainland Europe. Visitors are welcome on board by prior arrangement, as would any photographs or reminiscences of her time in Scotland.
Picture added on 31 December 2005
Comments: